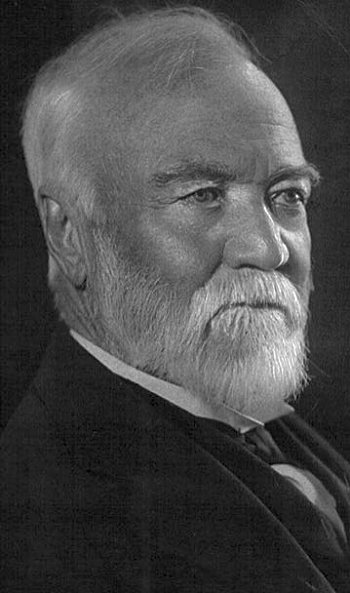 Andrew Carnegie was born in Dunfermline, Scotland, on November 25, 1835. The son of a weaver, he came with his family to the United States in 1848 and settled in Allegheny, Pennsylvania. At age thirteen, Carnegie went to work as a bobbin boy in a cotton mill. He then moved rapidly through a succession of jobs with Western Union and the Pennsylvania Railroad. In 1865, he resigned to establish his own business enterprises and eventually organized the Carnegie Steel Company, which launched the steel industry in Pittsburgh. At age sixty-five, he sold the company to J. P. Morgan for $480 million and devoted the rest of his life to his philanthropic activities and writing, including his autobiography. Many persons of wealth have contributed to charity, but Carnegie was perhaps the first to state publicly that the rich have a moral obligation to give away their fortunes. In 1889 he wrote The Gospel of Wealth , in which he asserted that all personal wealth beyond that required to supply the needs of one's family should be regarded as a trust fund to be administered for the benefit of the community.
Carnegie set about disposing of his fortune through innumerable personal gifts and through the establishment of various trusts. In his thirties, Carnegie had already begun to give away some of his fast-accumulating funds. His first large gifts were made to his native town. Later he created seven philanthropic and educational organizations in the United States, including Carnegie Corporation of New York, and several more in Europe.
One of Carnegie's lifelong interests was the establishment of free public libraries to make available to everyone a means of self-education. There were only a few public libraries in the world when, in 1881, Carnegie began to promote his idea. He and the Corporation subsequently spent over $56 million to build 2,509 libraries throughout the English-speaking world.
After termination of this program in 1917, the Corporation continued for about forty years an interest in the improvement of library services. Other major programs in the Corporation's early history included adult education and education in the fine arts.

During his lifetime, Carnegie gave away over $350 million. He died in Lenox, Massachusetts, on August 11, 1919.