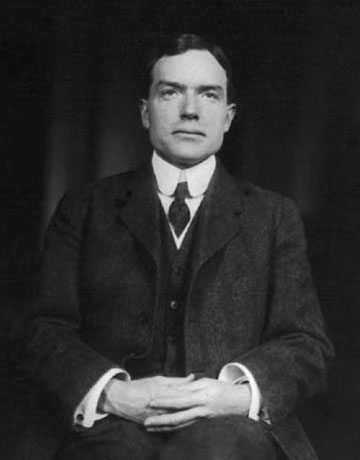 John Davison Rockefeller was born July 8, 1839 on a farm in Richmond, New York. He was the second child of six born to William Avery and Eliza Davison Rockefeller. The family lived modestly, John's father being a "pitch man" charging up to $25.00 for treatments for cancers. His father traveled and was gone for months at time and John's upbringing fell mainly on his mother, who was very religious and disciplined. She taught her children to work, to save and to give to charities. After moving to Moravia and later to Owego, New York, the family moved to Ohio in 1853. They bought a house near Cleveland, in Strongsville, Ohio and John attended Central High School in Cleveland. John left high school in 1855 and took a six-month business course at Folsom Mercantile College. He completed the course in three months and began searching for a job as a bookkeeper or clerk in Cleveland. In 1855, business in Cleveland was adverse and John had trouble finding a job. After six weeks, Hewitt & Tuttle, a small company of produce shippers and commission merchants employed him as an assistant bookkeeper. Rockefeller worked hard and impressed his employers, arranging complicated transportation deals moving freight by railroad, canal and lake boats. He began to trade for his own account and his combination of caution; precision and resolve brought him to the attention of the Cleveland business community.
In 1859, several months before his 20 th birthday, Rockefeller entered into business for himself, forming a partnership with a neighbor, Maurice Clark. Each man put up $2,000, John had $1,000 he had saved and he borrowed the other $1,000 from his father. Due to Rockefeller's natural business abilities, Clark & Rockefeller earned a small profit their first year in business and the company became very successful. Their business expanded rapidly during the Civil War and the company continued earning a profit for the two partners. In 1863, Rockefeller and Clark entered the oil business as refiners. Cleveland had become a major refining center for the booming new oil industry. Together with a new partner, Samuel Andrews who had experience in oil refining, and two of Maurice Clark's brothers, they built Andrews, Clark & Co. The five partners disagreed about financing the company's expansion and in 1865, Rockefeller bought the interest of the Clarks for $72,500 and with Andrews, formed Rockefeller & Andrews. Rockefeller, at the age of 24, leveraged the business and expanded intensely.
He was a very successful man. Rockefeller died on May 23, 1937 at the age of 97. He is buried in Lakeview Cemetery in Cleveland.