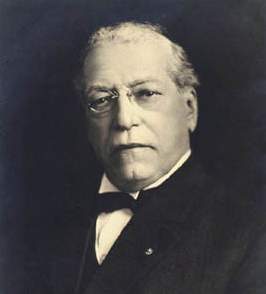 Samuel Gompers was the first and longest-serving president of the American Federation of Labor (AFL); it is to him, as much as to anyone else, that the American labor movement owes its structure and characteristic strategies. Under his leadership, the AFL became the largest and most influential labor federation in the world. It grew from a marginal association of 50,000 in 1886 to an established organization of nearly 3 million in 1924 that had won a permanent place in American society. In a society renowned for its individualism and the power of its employer class, he forged a self-confident workers' organization dedicated to the principles of solidarity and mutual aid. It was a singular achievement. Born in 1850 into a Jewish family in London, Gompers began making cigars alongside his father at the age of 10. In 1863, the entire family immigrated to New York City. Settling into a tenement apartment on Houston Street, Gompers continued rolling cigars at home with his father until he found work in one of the local shops. In 1864, he joined Local 15 of the United Cigar Makers; two years later, he married Sophia Julian, with whom he would have 12 children. At his job and in his local union, Gompers socialized with a group of older émigré socialists and labor reformers whom he would always credit for his commitment to trade unionism as the essential vehicle for bringing about social reform.
In 1875, Gompers was elected president of the reorganized Local 144 of the Cigar Makers' International Union (CMIU) in New York City, a post he held from 1875 to 1878 and again from 1880 to 1886. He then served as second vice president of the CMIU from 1886 to 1896, when he was elevated to first vice presidency. In the 1880s, Gompers was also instrumental in establishing the Federation of Organized Trades and Labor Unions, which he served as vice president from 1881 to 1886. When the FOTLU re-organized in 1886 as the American Federation of Labor, Gompers was elected its first president, a position he held for nearly 40 years. With his election as president of the AFL in 1886, he sought to build a national federation of trade unions dedicated to these principles. He immediately threw himself into the organization's first big effort—a nationwide general strike on May 1, 1886— in support of an eight-hour workday.
Gompers died in December 1924 in San Antonio, Texas, where he had been rushed after falling ill in Mexico City while attending the inauguration of the new president of Mexico.